Hakua

Kanji
白堊
Rōmaji
Hakua
Status
Shou
Nagu
Kamui
Bring drawings into life
Media
Manga Debut
Chapter 36

Hakua (白堊, Hakua) is the goddess of art and the Hayagami that was wielded by Nagu. Currently Hakua is submitted along with Nagu to Arata Hinohara
Description
Edit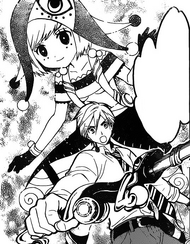 Hakua is 34cm(13 inch) wand tipped with a stick of chalk.
Hakua personifies herself as a young girl dressed in Harlequin costume.
Kamui & Abilities
Edit
Hakua has the ability to bring to life anything it Shou draws. What Hakua brings to life can appear deformed depending on the Shou's drawing ability.